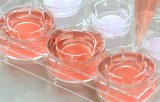 In vitro efficacy testing
The in vitro testing of product candidates can vary tremendously depending on the nature of the molecule, the biology being investigated and the overall requirements for throughput and yield.

In Vitro Efficacy Services

We offer a diverse portfolio of cell-based and biophysical assays that enable the development and characterization of new therapeutics based on both the physical characterization of the protein (expression, size, weight, binding) as well as the biological activity in mammalian cells and ultimately in animals.

Cell Based Assay Services

We have extensive experience developing cell based assays for determining mechanisms of action, evaluating potential therapeutics, and screening small libraries of compounds. We offer assays in a variety of cell types including primary cells and/or immortalized cell lines of interest to meet the specific needs of our clients.
Protein Analytics

The Protein Science team provides a range of analytical methods using multiple assay platforms that can be used to characterize a broad range of therapeutic, diagnostic or reagent-grade proteins.
Custom Assay Development

As each molecule and mechanism of action is unique, we understand the need for flexibility and attention to detail in all its services. If you do not see the test you need, bring us your custom projects and we can create a new test that will meet your research needs.
Liste der Unterrubriken :