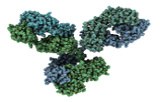 Antibody arrays
Many biological processes such as apoptosis, inflammation, angiogenesis, immune response and migration often accompany changes of cytokine expression levels. Because of the extensive cross-talk between cytokines, a complete analysis of biological responses and functions must be obtained through multiplex assays.
Antibody arrays allow a much broader view of protein activity
than can be obtained with single-target ELISAs and Western blots. Moreover, antibody array screening improves the chances for discovering key factors, disease mechanisms or biomarkers related to cytokine signaling.