Gallus Immunotech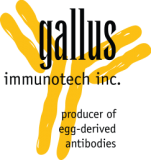 Beginning as a 'fledgling' in this new commercial field, Gallus Immunotech has matured into a business with world-class IgY expertise and a world-wide customer base.
Early on, we commercialized our proprietary IgY Eggspress Purification Kit in collaboration with a Canadian scientist whose PhD thesis subject was the efficient purification of IgY from egg yolk. Our purification kit boasts a high IgY yield (app. 6-7 mg IgY/gram yolk) and is very easy to use.
We strive to deliver high quality chicken antibodies in milligram quantities for the researcher or up to kilogram quantities for diagnostic or industrial use. All laboratory work is performed using standard operating procedures to assure the highest quality of our products. With our experienced scientists on hand to discuss small or large projects, we pride ourselves in providing personable service and attention to detail.