Protein G MagneZoom™ (Paramagnetic Beads)
Katalog-Nummer 20162005-1
Size : 1mL
Contact local distributor :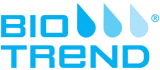 Telefonnummer : +1 850 650 7790
Description
Recombinant protein G covalently linked to MagneZoom (paramagnetic beads). Protein G binds Rc region of mammalian immunoglobulin. Ideal for purification and fractionation of IgG subclasses that poorly bind protein A. Suitable for high throughput screening.

Technical Specifications
Requires MagneZoomparamagnetic bead station (20160000-1) for separating beads.
Use: bioWorld's products are for RESEARCH use only.
Properties
Suspension/Column/Cartridge
Supplied as 5mg/ml suspension