NADP/NADPH BioAssay™ Kit (Nicotinamide Adenine Dinucleotide Phosphate)
Katalog-Nummer 299024-100T
Size : 100Tests
Contact local distributor :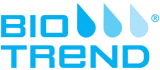 Telefonnummer : +1 850 650 7790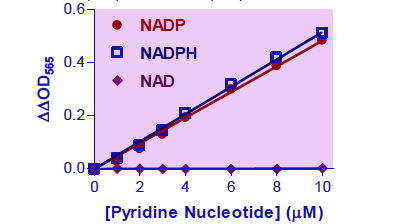 ---
Pyridine nucleotides play an important role in metabolism and, thus, there is continual interest in monitoring their concentration levels. Quantitative determination of NADP+/NADPH has applications in research pertaining to energy transformation and redox state of cells or tissue.

---
Sample Type:
Cell or tissue extracts

---
Intended Use:
Direct Assays: NADP+/NADPH concentrations and ratios in cell or tissue extracts.

---
Sensitivity:
Detection limit 0.1um, linearity up to 10um

---
Specificity:
This assay is highly specific for NADP+/NADPH and is not interfered by NAD+/NADH.

---
Test Principle:
This NADP+/NADPH BioAssay™ kit is based on a glucose dehydrogenase cycling reaction, in which the formed NADPH reduces a formazan (MTT) reagent. The intensity of the reduced product color, measured at 565nm, is proportionate to the NADP+/NADPH concentration in the sample. This assay is a convenient method to measure NADP, NADPH and their ratio.

---
Kit Components:
Assay Buffer, 1x10ml
Glucose (1M), 1x1.5ml
MTT Solution, 1x1.5ml
Enzyme Mix, 1x120ul
NADP Standard, 1mM, 1x0.5ml
NADP/NADPH Extraction Buffers, 12ml each

---
Storage and Stability:
Store powder at 4°C liquid at -20°C. Store other components at 4°C. Stable for at least 6 months For maximum recovery of product, centrifuge the original vial after thawing and prior to removing the cap.

---
Important Note
This product as supplied is intended for research use only, not for use in human, therapeutic or diagnostic applications without the expressed written authorization of United States Biological.
---