Monosan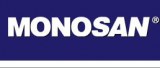 MONOSAN®, a brand name of Sanbio B.V. in the Netherlands, is a product line with commercially available antibodies and established in 1978. During the 70ties the first Anti Rat T-cell monoclonal antibodies where introduced. The range rapidly expanded and in 2002 Monosan made a big step forward when we included our unique addendum MONOSAN® Xtra. In 2008 MONOSAN® Reagents and MONOSAN® RTU were added.
MONOSAN® contains now over 2000 monoclonal and polyclonal antibodies and reagents which are being developed and commercialized either in our own laboratories or in collaboration with some of the leading universities and research institutes throughout Europe.
Within monosan range we have available 4 different product groups:
MONOSAN®:
Mainly research antibodies for IHC, IC, FC and WB.
MONOSAN® Xtra:
Antibodies for routine pathology labs, all applicable on FFPE tissues.
MONOSAN® Reagents:
Tools for IHC, like detection kits and buffers.
MONOSAN® RTU:
Ready to use antibodies for routine pathology labs, all applicable on automated systems.
At this moment the Monosan products are marketed and sold worldwide through a network of approved and service-conscious distributors and OEM partners in 50 different countries.
A complete selection of highly specific and exclusive antibodies is brought together at
this website
.
Ergebnis Ihrer Suche : 1838 Produkt(e) gefunden
Grenzen Sie Ihre Suche ein :
Unconjugated

1512

FITC

77

purified

68

HRP

54

Biotin

38

AP

17

PE

13

R-PE

12

RPE

11

APC

1
human

1522

mouse

212

rat

174

pig

89

monkey

83

dog

79

cow

63

rabbit

60

cat

41

chicken

31

hamster

25

guinea pig

24

sheep

23

goat

17

1

16

horse

15

swine

14

virus

11

bacteria

8

ferret

7

zebrafish

7

all species

5

xenopus

4

duck

2

monosan aec substrate

2

monosan dab high contrast

2

monosan dab substrate

2

monosan permanent ap-red kit

2

monosan plus (ap) broad spectrum bulkkit

2

monosan plus (hrp) broad spectrum bulkkit

2

plant

2

drosophila

1

e. coli

1

fish

1

frog

1

llama

1

monosan new fuchsin

1

monosan permanent aec

1

monosan plus (ap) broad spectrum (fastred) kit

1

monosan plus (ap) broad spectrum kit

1

monosan plus (ap) polymer bulk kit

1

monosan plus (ap) polymer kit

1

monosan plus (hrp) broad spectrum (aec)kit

1

monosan plus (hrp) broad spectrum (dab)kit

1

monosan plus (hrp) broad spectrum kit

1

monosan plus (hrp) polymer

1

monosan plus (hrp) polymer bulk kit

1

monosan plus double stain polymer kit

1

permanent hrp green

1

unknown or not determined

1

yeast

1
mouse

1333

rabbit

305

rat

89

goat

25

guinea pig

13

sheep

6

mouse/rabbit/rat

2

cow

1

human

1
Primary antibody

1660

Secondary antibody

118

kit

25

Buffers and reagents

24

Control isotype

6

Other Products

2

Other products

2
IHC

1551

FC

594

WB

528

ELISA

444

IF

389

IP

231

ICC

104

Microscopy

20

IHC-P

13

IHC-fr

11

Agglutination

2

IHC -P

1

IHC-P (1:10-1:50)

1

IHC-fr (1:20)

1

Inhibition

1
polyclonal

250

Rabbit

7

121SLE

4

2G9

4

5G5

4

DX11

4

EP1582Y

4

F3

4

LO-ME-3

4

LT19

4

13B10

3

15-2

3

1B12

3

23A3

3

4C7

3

56C6

3

5D11

3

A103

3

AE1/AE3

3

AT10

3

B72.3

3

BB27

3

BFG-267

3

BU63

3

C3

3

CD25-3G10

3

CWWB1

3

EFE-565

3

EPR2764Y

3

ER-PR8

3

F15-42-1

3

LO-MG2a-2

3

W6/32

3

10.1

2

1009

2

123C3

2

123C3.D5

2

124

2

12D6

2

13H4

2

14

2

16/f5

2

1A4

2

1D6

2

1G11B1

2

1G12

2

1G5.2&2D4.2

2

2-48

2

2-52

2

20/11 & 2/6

2

265-1K1

2

2B11 & PD7/26

2

2F11

2

2H11+6E1

2

2f2

2

3

2

304-1A5/31A5

2

31

2

31A5

2

34betaE12

2

35betaH11

2

3D12

2

3F6

2

3G8

2

44

2

450-9D

2

47-8D3

2

4B11

2

4C4.9

2

4C9

2

514H12

2

55-k2

2

60-3G2

2

66E2

2

67D3

2

6D4

2

6F-H2

2

7.3.19.1

2

7C2

2

8B1.2

2

8G7G3/1

2

9C4

2

A2Mr alpha-2

2

A53-B/A2.26

2

AC-1A1

2

AE-3

2

AE-5

2

AL-01

2

ALK-1

2

AT107-2

2

AU-1

2

B-A38

2

B22.1&B23.1

2

BEAR-1

2

BF12

2

BM-2

2

BS2

2

BS4

2

BS5

2

BS71

2