Chromatrap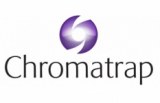 Chromatrap is a more efficient, sensitive and robust method of ChIP
Compared to standard methods, Chromatrap® is:
FASTER
EASIER to use
MORE SENSITIVE particularly for low-abundant targets
Less prone to ERRORS of manual handling

Chromatrap® technology is better
Chromatrap® kits use revolutionary spin columns or microplates which contain discs of an inert, porous polymer to which protein A or G has been covalently attached. This patented format is unique. During an assay, the chromatin/antibody complex is selectively retained by the disc. Flushing with three buffers and an elution step are all that is required to obtain the selectively enriched DNA, making Chromatrap® more efficient in the laboratory:
ChIP in under 5 hours from chromatin preparation to qPCR
Less manual handling, eliminating sample loss through multiple pipetting steps
Single column and 96-well formats available
Optimised for 1000ng sample sizes: better results from smallersample
Great results for samples between 50ng and 3000ng
What does this mean in the laboratory?
Chromatrap® outperforms other chromatin immunoprecipitation methods:
Robust signal to noise
Typically 2-3 times better than standard methods
Low non-specific binding of the inert Chromatrap® discs
No pre-blocking step required
No DNA clean-up required
High surface area and excellent molecular mixing, ideal for:
Low abundant targets
Challenging cell types, including primary cells
Excellent 'flow through' characteristics of the column
Easy, fast washing and elution steps during the assay
Ensures highest levels of chromatin capture and release
Wide dynamic range
Smaller sample sizes
More ChIP assays from a single sample
Web Site : www.chromatrap.com
Ergebnis Ihrer Suche : 120 Produkt(e) gefunden
Grenzen Sie Ihre Suche ein :
human

19

mouse

2

saccharomyces cerevisiae

2

arabidopsis

1

c. elegans

1

cow

1

drosophila

1

monkey

1

rabbit

1

schizososaccharomyces pombe

1

sheep

1

yeast

1
Other products

39

kit

26

Primary antibody

22

Primer

17

Buffers and reagents

14

Control isotype

2
ChIP

83

WB

20

ELISA

18

Multiplex assay

12

ICC

6

IHC

2

Dot blot

1

FC

1

IF

1

IP

1
Monoclonal

6

Polyclonal

6

6F12-H4

1

RM130

1

RM137

1

RM140

1

RM150

1

RM172

1

RM175

1

RM188

1

RM199

1

RM202

1

RM212

1

RM215

1