Test our new anti-p16 antibody with 40% off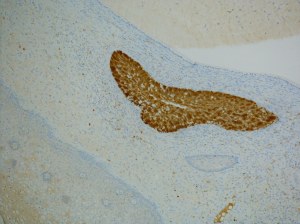 63 euros for 40µl (Concentrated) / 36 euros for 1 ml (Pre-diluted)
Offer n°2021-P16 valid until 30/04/2020*
Anti-p16 antibody - Clone R15-A

Features :
Mouse monoclonal antbody(Clone R15-A)
A wide range of formats available : Concentrated (0.04, 0.1, 0.2, 0.5 et 1 ml) et prediluted (1, 7 et 15 ml)
Validated on the Ventana Benchmark automatic system

Type
Mouse monoclonal antibody
Size
Concentrated : 0.04, 0.1, 0.2, 0.5 and 1 ml ; Prediluted : 1, 7 and 15 ml

Pretreatment
Tris-EDTA pH 9
Positive control
Cervical carcinoma
High grade squamous intraepithelial lesion of the uterine cervix stained with mouse anti-p16 (DB 253, clone R15-A) monoclonal antibody, shows significant nuclear and cytoplasmic positivity of target cells. Formalin fixed, paraffin embedded human tissues (4 μm sections) stained according to related DB Biotech datasheet.

*Offer valid only on 40µl concentrated and 1 ml pre-diluted test formats, limited to one tube of each format per laboratory.
Medical device for in vitro diagnostics. Please read the instructions for use carefully.