COVID : From 2.2 euros per test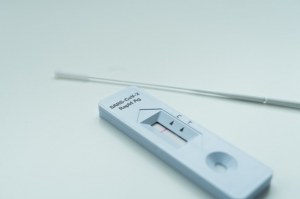 Offer 2021-COVID-2 valid until 30/06/2021
Rapid antigenic tests on nasal swab and saliva

For rapid detection of SARS-Cov-2 virus within 15 minutes during Covid-19 infection in nasopharyngeal, nasal and salivary samples
2.2 euros / Test for the nasal swab test (Ref : 6921807601020)
3.3 euros / Test for saliva test (Ref: SC0201)
Delivery in 48 hours
Buy Now !
What are the advantages of rapid antigenic tests?
* Rapid results in 15 minutes.
* Detection without any specific equipment
* Easy to use: Simple 3-4 step protocol, no need for sample pretreatment.
* Efficient case tracking: Immediate results allow for earlier initiation of contact tracing and isolation.
* Compatible with nasopharyngeal, oropharyngeal and saliva samples
* Storage at room temperature.
Contact us for more details or other products !
Medical devices for in vitro diagnosis. Read the instructions for use carefully.
All these kits are intended for in vitro diagnostic use and may only be used by healthcare professionals.