40% OFF Ultra-adhesive Microscope Slides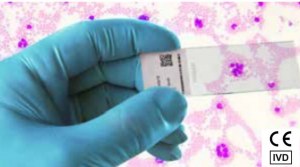 40% Exclusive Discount on Ultra-Adhesive Microscope Slides!

Offer n°

2023-SLIDE

valid until

31/12/2023
Adhesive microscope slides for immunohistochemistry (IHC) applications
Series 3 Adhesive microscope slides are manufactured with a specialized fortified adhesion coating that provides improved tissue sample adherence and extensibility. The slides are made of fine glass with superior flatness and transmittance with minimal intrinsic fluorescence. They are accredited by ISO 13485 standards, ensuring reliability in pathological cytology and histology laboratories.
Find our microscope slides T7611 Series 3 Adhesive
Carefully cut, ground, cleaned, and inspected

Ground edges and clipped corners

Dimensions: 76x26 mm

Thickness: 1 mm

Large frost

size: 20 mm

C

olors: white

Packaging: 100 per pack

Expiration Date: /06/2024
Take advantage
40% discount
on Series 3 White microscope slides, and available until the end of the year!
Discover our complete range of histology products
Medical devices for in vitro diagnostics. Please read the instructions carefully.