102th Annual Meeting of the German Society for Pathology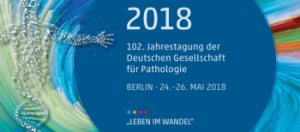 24-26th May 2018 - Estrel Congress Center, Berlin

"Life in Transition" is the motto of the 102th Annual Meeting of the German Society for Pathology, to which we cordially invite you to the Estrel Congress Center in Berlin. The motto combines three themes that address important developments of recent years.
In 2003, the "Human Genome Project" ended with the publication of the sequence of the human genome and forms the basis for follow-up projects aimed at a comprehensive genomic characterization of human cancers. In the meantime, many common cancers have been molecularly characterized at a breathtaking speed. It reveals inter- and intra-individual diversity and complexity (heterogeneity), which is a reflection of the diverse etiologies and clonal diversification of cancer. Cancer biology shows the characteristics of microevolutionary biological processes and poses new challenges for research, diagnostics and therapy.
The second topic is dedicated to the rare diseases that are considered orphans of medicine. They often provide special insights into cell and tissue biological processes. A national action plan published by the National Action Alliance for People with Rare Diseases (NAMSE) in 2013 has set itself the overarching goal of better informing the treating and the treated. The medical care structures should be expanded and competences bundled. The thematic focus on rare diseases takes up this overriding initiative and creates a forum at our annual conference.
The third topic focuses on digital medicine. It combines different content: digital doctor's workstation, digital image analytics (deep learning), digital image archiving, handling and evaluation of "big data" and dealing with modern digital information platforms. In the meantime, digital medicine has a fixed, forward-looking status in pathology. We hope that these three topics will bring together an exciting program that will also show young academics how alive and changeable pathology is.