IHC in less than 10 minutes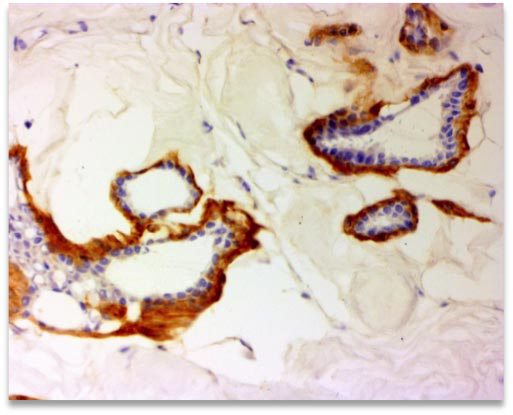 ihcDirect® for Intraoperative IHC diagnostics

IHC in less than 10 minutes
ihcDirect® is a revolutionary IHC technology (patent pending) further advanced from our polymer detection systems. Some of the most commonly utilized diagnostic antibodies are directly conjugated to our polyHRP, resulting in a simpler and faster IHC procedure that minimizes intermediate steps. This new technology for IVD use is branded as ihcDirect. These products have unique advantages over other IHC products in the market.
Intraoperative IHC diagnostics can only be practical if a procedure is less than 10 minutes. ihcDirect products have attained this level of speed, giving surgical oncologists the diagnostic information they need to improve patient care and reduce healthcare costs.
Many publications have indicated that receiving lab results in "ideally less than 20 minutes" is highly desirable for a variety of intraoperative surgeries (eg sentinel lymph node assessments, breast, lung, brain, and thyroid cancers). These rapid test results give physicians more information about their patients status at the time of surgery and thereby are anticipated to improve medical outcomes. Intraoperative tests performed by IHC can be a highly valuable tool but can only be practical if the entire IHC procedure can be completed in less than 20 minutes (including cutting tissue). Conventional IHC processes require hours to complete and are, therefore, impractical for intraoperative applications. The standard of practice today is to utilize hematoxylin and eosin (H&E) staining during intraoperative surgery. With few exceptions, physicians can only make surgical decisions based solely upon the morphologies observed from the H&E stain results. As traditional central laboratory IHC results become available days later, a patient with a false-negative may be required to return for additional surgeries with the corresponding ramifications of cost and inconvenience for the patient and medical providers.
The Novodiax ihcDirect technology uses a polymerized HRP conjugated directly onto primary antibodies that result in a simpler and faster IHC procedure that minimizes the time and workflow steps.Our ihcDirect method yields a revolutionary technology that opens a spectrum of new clinical applications including intraoperative surgery. Using the Novodiax polyHRP technology, Intraoperative IHC tests can now be completed in just 10 minutes using fresh frozen tissues.
Mohs Surgery

Success with Mohs Micrographic Surgery (MMS) depends on accurate mapping of the tumor, correct interpretation of the histopathological sections, and appreciation of aggressive tumor characteristics. Because hematoxylin and eosin (H&E) staining may present difficulties in interpretation of frozen sections, ihcDirect tests are being used to supplement these routine stains with greater sensitivity and specificity.
Adjunctive use of ihcDirect with H&E frozen sections enhances tissue interpretation and spares resection of additional tissue. The most common reason for recurrence of tumor after MMS is residual undetected tumor.
ihcDirect leads to facilitated surgical excision via MMS by reducing variable staining, high background or nonspecific staining, and turn-around time. Specifically, ihcDirect is useful in clearly delineating malignant cells present in dense inflammation, identifying perineural invasion and pagetoid spread in carcinomas.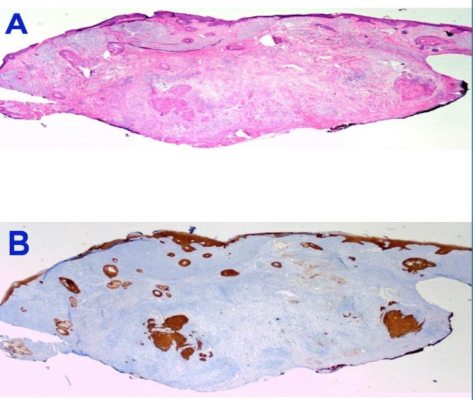 CK5 ihcDirect stain of squamous cell carcinoma. A, H&E stain; B, CK5 ihcDirect stain. Normal skin epidermal squamous cells, hair follicles, sebaceous glands and squamous cell carcinoma are highlighted with CK5 direct IHC, low magnification (2X).

Additional Intraoperative Surgeries
There are many other current and potential sues for frozen tissue IHC tests. These include, but are not limited to:
Sentinel Lymph Node (SLN) assessment

Assessing surgical margins with melanoma

Sclerosing tumors

Simplifying tests in off hours (eg nights&weekends)

Epithelial melanoma tests with transplantation procedures