OncoTarget : signature of the exclusive licence - 23.05.2023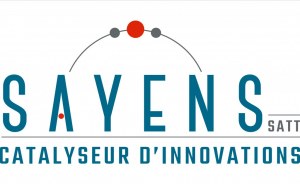 Personalised medicine • Oncology • Next-generation sequencing-NGS • Diagnostic •
• Biotechnology • Bioinformatics • Innovation • Technology transfer

Fight against cancer :
SATT Sayens and CliniSciences announce the signature of an exclusive license agreement relating to a genetic test on solid and liquid biopsies for cancer therapy
Invented in Dijon within the Cancer Biology Transfer Platform (PTBC)[1] of the University of Burgundy and the Georges-François Leclerc Cancer Center (CGFL), the innovation was patented, « matured » and licensed by SATT Sayens to the CliniSciences Group. The technology offers the possibility of detecting and interpreting genetic mutations, even very rare ones, in tumor tissue or blood plasma to guide treatments and therefore personalised the drug delivery of cancer patients.
A key innovation for personalised medicine supported by Sayens
The work of researchers Romain BOIDOT, Frédérique VEGRAN, and François GHIRINGHELLI has been supported by SATT Sayens since 2018, protected by patent and validated with CliniSciences. This invention was the subject of a scientific publication[2] (Chevrier et al., Int J Mol Med 2022) based on the analysis of nearly 2,300 patients over 3 years. The work with CliniSciences has improved the protocol allowing an easy implementation of the technology in numerous laboratories worldwide.
Thanks to this license, CliniSciences aims to produce an innovative kit for detecting genetic mutations, in solid and liquid biopsies in oncology. The identification of these mutations, by NGS3 sequencing, will make it possible to orient the patient to drugs that currently have Marketing Authorization the Market (AMM) thus reconciling rapidity in the management of patients and economic gains for the health system.
The final objective of this kit is to improve the molecular theranostic diagnosis in the field of oncology, as well as the ability of oncologists to diagnose and choose the most suitable therapeutic strategy for the patient.
For Dr. Romain BOIDOT, Head of molecular biology activities at CGFL and co-inventor, "we are very dedicated to innovation and therefore it makes us proud to see that our research work lead to a technology transfer with CliniSciences. The collaboration with SATT Sayens has allowed us to further improve the test at the level of the protocol itself in order to facilitate its international implementation while maintaining the robustness and reliability of our test whose goal is to provide personalized care for cancer patients ".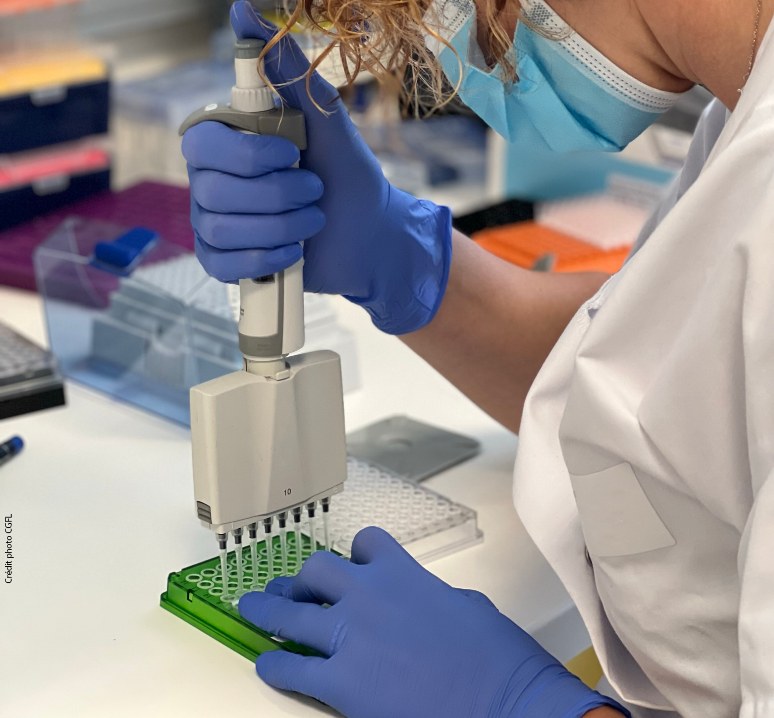 Preparation of an ONCOTARGET analysis in order to obtain a molecular diagnosis allowing personalization of treatment ©CGFL
"We are delighted with the partnership with CliniSciences, which we hope to grow over the long term. Thanks to our proximity to public research, as SATT, we contribute to the emergence and "derisking" of promising innovations in order to pass the baton to companies. The Research, Innovation and Industry continuum is thus ensured. In this partnership, we are collectively demonstrating that we are providing personalised medicine in the fight against cancer with concrete responses to the current and future needs of our healthcare system, for the benef[1]it of patients," says Catherine GUILLEMIN, CEO of Sayens.
An innovative solution for the detection of genetic anomalies in the fight against cancer
For several years, CliniSciences Group has been supporting research and innovative start-ups in life science, and in particular in the fight against cancer. Thus, CliniSciences group has decided to pursue its commitment in 2023, in collaboration with SATT Sayens.
"We are delighted to have signed this license agreement with SATT Sayens. This partnership reflects our commitment to invest in scientific innovation. This new mutation detection kit will provide important information to oncologists and help to improve patient treatment. We look forward to expanding this technology to more genes in the coming months," comments Tushendan RASIAH, CEO of CliniSciences
---
About CliniSciences – www.biotrend.com
CliniSciences Group is a European distributor of reagents and equipment for scientific research and medical diagnosis. They support more than 350,000 customers on a daily basis through their 130 employees in 15 countries, the majority are scientists, most of whom hold doctorates in science.
CliniSciences has over 40 years experience in the field of oncology diagnostics with a wide range of in vitro diagnostic products manufactured by partners recognised for the quality of their products.
CliniSciences' objective is to[1] contribute to the development of scientific innovation in the world by participating in the promotion of inventions from laboratories, particularly in the field of oncology. A major operation in 2022 was the acquisition of Oncomedics by CliniSciences group. Oncomedics has developed an in vitro diagnostic medical device in oncology, the Oncogramme®, that helps oncologists to choose the best cancer treatment.
About Sayens - www.sayens.fr/en/
SAYENS, one of the 13 French Technology Transfer Accelerator Offices (SATT), is a company founded by the 8 major academic institutions (universities and research organizations) from Burgundy Franche-Comté, Lorraine and South Champagne-Ardenne (Troyes) area. Its mission is to improve the socio-economic impact of academic research results by improving, accelerating and fostering technology transfer from public research to companies and start-ups.
SATT SAYENS is an affiliate of Burgundy University, Franche Comté University, Lorraine University, University of Technology of Troyes, Institut Agro Dijon, University of Technologie Belfort-Montbéliard, SUPMICROTECH - ENSMM, CNRS, INSERM, French Government.
About University of Burgundy – www.u-bourgogne.fr
In 2022, the University of Burgundy celebrated its tercentenary. Historic university, composed of 3,000 staff, it welcomes 35,000 students each year spread over 6 campuses in Burgundy (Auxerre, Chalon-sur-Saône, Dijon, Le Creusot, Mâcon, Nevers). Since 2014, the University of Burgundy is present in several international reference rankings (Leiden, Times Higher Education) valuing the quality of its training and of his research. The University of Burgundy is thus among the top 5% of institutions worldwide. A multidisciplinary university, in areas of research and excellence, ranging from archeology to Artificial Intelligence, the University of Burgundy also provides 400 training courses each year.
About Georges-François Leclerc Cancer Center (CGFL) - https://www.cgfl.fr/
Expert in cancer, the Georges-François Leclerc Center is one of the 18 French Centers for the Fight against Cancer, members of the UNICANCER network, only hospital group exclusively dedicated to cancerology. It ensures public service missions in the field of diagnosis and treatment of patients, research and teaching of cancerology.
Serving 26,000 patients treated every year, in the Burgundy area, its teams rely on the development of multiple innovative activities : molecular medicine, genomics, immunotherapy, preclinical and clinical imaging, early drug development, high precision radiotherapy, internal vectorized radiotherapy, ... .
Its team of physician-researchers, recognized at the highest international level, offer a personalized care program with no excess fees or liberal activity, and develops research of which patients benefit directly, using its accredited translational research platforms and its certified Clinical Research Center to carry out research ranging from basic research to clinical research, including research on quality of life.
The CGFL is a university hospital recognized as being of public utility and is authorized to receive donations and legacies. It counts 972 employees including 162 doctors and 115 searchers – its annual budget is 130 million euros of which 10% is appointed to research and innovation.
CONTACT :
Gaël Gesbert, PhD

Business Development and Innovation Director

info@clinisciences.com


Tél. :

(33) 9 77 40 09 09
---
1https://www.cgfl.fr/plateforme/plateforme-de-transfert-biologie-cancerologique/
2 Chevrier et al., Custom multi-tumor next-ge,eration sequencing panel for routine molecular diagnosis of solid tumors : Validation and results from three-year clinical use. Int J Mol Med 49 : 57
3 NGS : Next-Generation sequencing