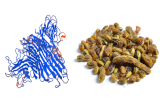 Styphnolobium japonicum (Japanese pagoda) Lectin (SJA)
The seeds and pods of S. japonicum contain various haemagglutinins (lectins). This probably explains the toxic effect of intravenous administration of a seed or pod extract.
Styphnolobium japonicum agglutinin (SJA) is affinity purified from Japanese pagoda tree seeds. It consists of two subunits. The subunits can be separated into two subfractions, a D-galactose/N-acetyl-D-galactosamine specific lectin (B-SJA-I) and a D-mannose/D-glucose specific lectin (B-SJA-II). SJA has an isoelectric point between pH 4.9 and pH 5.6 and a carbohydrate specificity towards GalNAc. This lectin elutes with the sugar GalNAc.SJA agglutinates all blood group types but has greater affinity for A erythrocytes than of B types, than of O (-SA) types. Binding experiments of the lectin with frozen sections of human kidneys shows specific binding to the endothelia in specimens from blood groups B or AB, thus indicating a D-galactose/N-acetyl-D-galactosamine receptor specificity. SJA lacks mitogenic and immune-suppressive activity.
Ergebnis Ihrer Suche : 28 Produkt(e) gefunden
Grenzen Sie Ihre Suche ein :
Unconjugated

14

Agarose

2

Biotin

2

AP

1

Cy3

1

Cy5

1

DyLight 488

1

FITC

1

HRP

1

TRITC

1