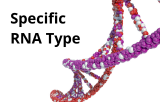 Specific RNA type
In molecular biology research, it is often necessary to extract specific RNA types from biological samples for downstream applications. Three important RNA types commonly isolated for experimental analysis are microRNA (miRNA), messenger RNA (mRNA), and total RNA.
miRNA are small non-coding RNA molecules that play an important role in regulating gene expression. miRNA functions by binding to complementary sequences on mRNA molecules and inhibiting their translation, or promoting their degradation. Therefore, isolating miRNA is essential for studying the regulation of gene expression and investigating the roles of miRNA in various biological processes.
mRNA, in contrast, is a type of RNA molecule that carries the genetic information from DNA and acts as a template for protein synthesis. Isolating mRNA is crucial for studying gene expression and identifying differentially expressed genes in various biological conditions.
Total RNA refers to all RNA types present in a given sample. Isolating total RNA provides a comprehensive picture of the RNA content in a sample and can be useful for profiling gene expression or studying the function of non-coding RNAs.