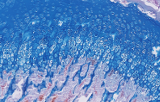 Slides for routine stains
Series 1 Frosted microscope slides are slides for routine stains (Hematoxylin & Eosin) and special stains.
These slides provide a very uniform superior staining of tissue sections that pathologists can rely on.
These are uncoated microscope slides with a colored marking area at the end for facilitate sample identification through marking or printing.
They can be used in basic histology including staining with hematoxylin and eosin as well as in hematology.
Series 1 Frosted slides are made of high quality extra flat float glass certified by ISO 8037/1 and ISO 13485 quality management standards for daily use in pathological cytology and histology laboratories for reliable results.
Characteristics :
Frosted glass without coating

Pre-cleaned and individually inspected

Dimensions: 76 x 26 mm (3 in x 1 in)

Thickness: 1 mm