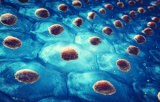 Primary cells
Primary cells are cells that have been isolated directly from a living tissue or organ. They are differentiated cells that mimic the physiological state of cells in vivo and are expected to maintain their in vivo functions under optimal conditions for a short period of time. Cells that can be isolated and cultured in vitro undergo a limited number of cell divisions before entering senescence. This limited lifespan is one of the major limitations of using primary cells. With the exception of stem and progenitor cell populations, the majority of primary cells are terminally differentiated cells of a very specific type and high level of function.
Primary cell models are well established, relatively easy and inexpensive to use, and offer several key advantages over the use of tissue sections. The main advantage of this model is that primary cells retain functions and phenotypes close to those of tissues/organs in vivo, and the effect of drugs/toxins can be studied on isolated primary cells at the cellular level.
We offer a wide range of primary cells. If you do not find the cells you need, we can nevertheless supply it to you. We offer a custom service that allows you to obtain the cell(s) you need, just give us your criteria.
Contact our technical support for more information.