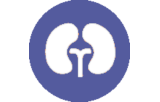 Primary antibodies for immunohistochemistry CE/IVD - Genitourinary pathology
The genitourinary system or urogenital system is the organ system of the reproductive organs and the urinary system. The genitourinary tract traditionally includes the kidneys, the bladder, the tubes that collect and drain urine from the kidneys and drain it into the bladder (the ureters), the tube that drains urine from the bladder to the outside (the urethra), and specifically in men, the testicles and the prostate. The prostate is an accessory sex gland necessary for reproduction. These are grouped together because of their proximity to each other, their common embryological originand the use of common pathways, like the male urethra.
Genitourinary pathology is the subspecialty of surgical pathology which deals with the diagnosis and characterization of neoplastic and non-neoplastic diseases of the urinary tract, male genital tract, and testes.
Also classified as genitourinary cancers are cancers that develop on the penis or in the adrenal glands. The adrenal glands are small hormone-producing glands, which are located on the top of each kidney. In women, cancers that develop in the ovaries, the uterus, the cervix, or the vagina are in a separate category of cancers called gynecologic cancers.