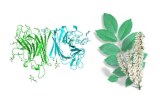 Maackia amurensis (Amur maackia) Lectin (MAL)
Maackia amurensis lectins are leucoagglutinins or mitogenic isolectins from Maackia seeds. These lectins are used as glycoanalytical tools to probe biological targets for alpha 2-3-linked sialic acids and have a molecular weight of 13à kDa and an isoelectric point of pH 4.7.
There are 2 MAL lectins : MAL I and II. MAL I+II can be used to detect glycans containing alpha 2-3-linked sialic acids but cannot be used to determine if the binding target is an N- or O-linked glycan. Binding assays must include sialidase-treated controls, that will greatly reduce or eliminate the lectin-binding signal to show specificity. Sialidase treatment has no impact on non-specific lectin-protein interactions or on MAL I or MAL II binding to glycans containing SO4-3-Gal.
Ergebnis Ihrer Suche : 140 Produkt(e) gefunden
Grenzen Sie Ihre Suche ein :
Unconjugated

53

Agarose

8

Beads

6

Texas Red®

4

AP

3

Biotin

3

Cy3

3

Cy5

3

DyLight 488

3

FITC

3

Ferritin

3

Gold

3

HRP

3

TRITC

3