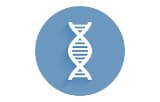 DNA polymerases for conventional PCR
DNA polymerases are essential enzymes in DNA replication and repair and are commonly used in conventional polymerase chain reactions (PCR) to amplify specific DNA sequences for research and diagnostic purposes. However, the fidelity and accuracy of PCR amplification can vary depending on the choice of DNA polymerase, with some enzymes exhibiting higher error rates than others.
Recent research has focused on developing and characterizing new DNA polymerases with improved accuracy and fidelity for PCR. For example, the development of high-fidelity DNA polymerases such as Q5 and Phusion polymerases has enabled researchers to achieve more accurate and reproducible PCR amplification of DNA fragments, particularly for applications such as gene cloning and sequencing.
In addition, there has been increased interest in the use of alternative DNA polymerases for PCR, such as those isolated from extremophiles, which may exhibit unique properties such as increased thermal stability or processivity. For example, recent studies have identified novel DNA polymerases from organisms such as the archaeon Sulfolobus acidocaldarius and the bacterium Geobacillus thermoglucosidasius, which show promising activity for PCR applications.
Furthermore, advances in DNA polymerase engineering have enabled researchers to modify and optimize existing enzymes for specific PCR applications. For example, site-directed mutagenesis has been used to enhance the processivity and accuracy of Taq polymerase, which is widely used in conventional PCR, by introducing mutations in the polymerase domain.