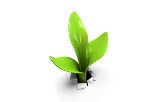 Direct PCR on plant tissues
Direct PCR from plant samples is a difficult application because of the diversity of plant tissue types and the potential inhibitors of the amplification reaction present in these tissues such as polyphenols and polysaccharides. The success rates of direct PCR are typically low because of the high concentrations of inhibitors present in a small amount of plant sample.
Direct plant tissue PCR kits provide all necessary reagents for DNA extraction and PCR amplification. These kits are designed for the direct extraction of genomic DNA from samples using only an extraction buffer, eliminating the need to neutralize the "raw" lysate as well as the problems caused by the repeated opening of the tube during The usual extraction and purification process, such as contamination.
These kits contain a lysis buffer specific to the treated sample and a PCR mix containing an enzyme capable of amplifying a DNA sequence from an unpurified extract.
Ergebnis Ihrer Suche : 2 Produkt(e) gefunden
Grenzen Sie Ihre Suche ein :
AD301-01
100rxns×20µlsystem
AD301-02
500rxns×20µlsystem