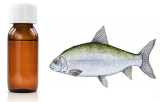 Coregonus lavaretus marenae lectin (CorM)
CorM is a lectin isolated from the eggs of the fish Coregonus lavaretus maraena (Salmonidae family).
Coregonus maraena, referred to in English as the maraene, maraena whitfish or the whitefish, is a whitefish of the family Salmonidae that occurs in the Baltic Sea basin - in the sea itself and the inflowing rivers, and in several lakes as landlocked populations. It is found in Denmark, Estonia, Finland, Germany, Latvia, Lithuania, Netherlands, Norway, Poland, Slovakia (Štrbské pleso), Russia and Sweden.
The molecular weight of the subunits estimated by electrophoresis in the presence of dodecyl sulfate is 27 000 for both reduced and nonreduced substance. The lectin contains a large amount of cysteine, has a small content of aromatic amino acids, 10.4% of neutral sugar and 0.145% of Zn. It agglutinates specifically human Bgroup erythrocytes; the agglutination is stimulated by Zn2+ and Mg2+ ions and partially inhibited by EDTA. The most efficient carbohydrate inhibitors are methyl alpha-Lrhamnoside, L-rhamnose, and raffinose.
Ergebnis Ihrer Suche : 2 Produkt(e) gefunden
Grenzen Sie Ihre Suche ein :