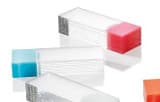 Consumables for histology
We offer a wide choice of consumables for histology.
Microscope slides and coverslips: our slides for microscope and coverslips allow a very uniform superior staining of tissue sections that pathologists can trust. These slides help provide a good diagnosis for many tissue sections and applications. They provide reliable results. We offer different slides with specific characteristics to suit all needs.
Paraffins: The range consists of purified paraffin wax formulations manufactured using high quality raw materials under a rigorous quality management system.
Foams for biopsies: our biopsy foams are crosslinked urethane polyester. They allow optimal transfer of reagents around tissue samples while keeping them safe. The foam is soft and flexible with fine pores. The size is compatible with most tissue cassettes used in histology laboratories.
Archiving Microscope Slides and Cassettes: We offer a range of storage solutions for slides and cassettes to preserve valuable tissue throughout histology manipulations.