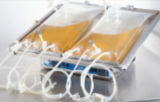 Bags for cell culture
The classical container, a T flask, does not allow easy medium replacement and requires complex manipulation, with the result that serious risks of contamination appear in some procedures. Gas-permeable bags or cell culture bags represent an interesting alternative approach for large-scale expansion, notably through use of a closed and easily manipulated system. This closed-system eliminates the risk of cross-contamination.
The culture bags are used with wave-mixed bag bioreactors, the rocking movement of the bioreactor's platform containing the flexible culture bag facilitates mixing. In this way, the surface of the culture medium is continuously renewed and a bubble-free surface aeration takes place. Our culture bags are compatible with the most commons
The cell culture bags are useful during cultivation in research, development, and commercial manufacturing operations. They are used for cell proliferation, screening experiments, the production of therapeutic agents (recombinant proteins, antibodies, secondary metabolites) and the production of viruses for gene therapies as well as veterinary and human vaccines.
Ergebnis Ihrer Suche : 11 Produkt(e) gefunden
Grenzen Sie Ihre Suche ein :
Other products

6

cell culture media

3

cell culture products

2