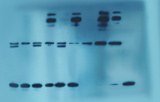 Autoradiography standards
An autoradiograph is a picture on a film or a nuclear emulsion produced by a set of emissions (beta particles or gamma rays) of radioactive substances. Autoradiography allows the visualization of molecules or fragments of molecules marked with radioactive elements. Autoradiography has multiple applications in biology.
This technique can be used to determine the localization of a radioactive substance in a tissue or a cell, this substance being introduced into a metabolic pathway coupled to a receptor or an enzyme or a nucleic acid.
The use of radioactive ligands makes it possible to determine the distribution of receptors in tissue in vivo or in vitro. The ligands are generally labeled with tritium (H-3) or iodine 125 (I-125). Radioactive precursors of DNA or RNA, tritiated thymidine or tritiated uridine, respectively, can be introduced into living cells to determine the time of the different phases of the cell cycle. It is also possible to study hormonal production or other metabolic pathways.
In order to carry out quantitative autoradiographic studies, it is possible to use known radioactive concentration standards known as autoradiography standards. The standard curves will then be used to estimate the radioactivity level of the samples.