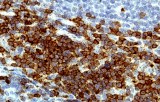 Anti-ZAP-70 CE/IVD for IHC - Hematopathology
Zeta-Associated Protein-70 (ZAP-70), a Syk-family protein tyrosine kinase, is associated with early B-lymphocyte development, natural killer cell activation, and T-lymphocyte receptor signalling. It associates with TCR zeta subunit and undergoes tyrosine phosphorylation following TCR stimulation. ZAP-70 is absent in normal mature B-cells and present in many B- and T-lymphocyte lymphomas.
TCR-mediated activation of T cells is crucial to the immune response. In humans, ZAP-70 gene mutations resulting in lower ZAP-70 protein expression levels or expression of catalytically inactive ZAP-70 proteins, have been identified. ZAP-70 deficiency results in the absence of mature CD8+ T cells and the prevention of TCR-mediated activation of CD4+ T cells, and it can lead to severe combined immunodeficiency.
Chronic lymphocytic leukemia/small lymphocytic lymphoma (CLL/SLL) can be either indolent and asymptomatic, or highly aggressive and requiring immediate chemotherapy. These two classifications of CLL/SLL have been shown to correlate with the mutational status of immunoglobulin heavy-chain variable-region (IgVH), therefore positive staining for the unmutated IgVH with Anti-ZAP-70 and negative staining for the mutated variant is very useful for the prognosis of CLL/SLL.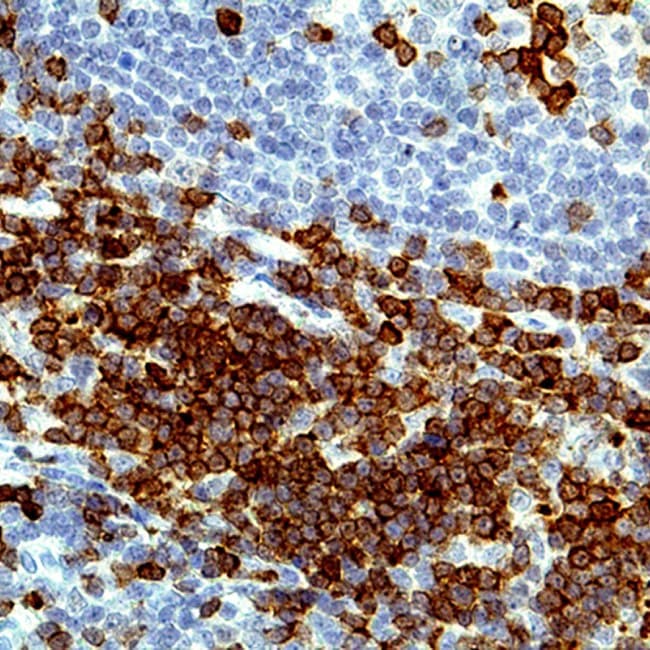 Katalog-Nummer
Beschreibung
Cond.
H. T. Preis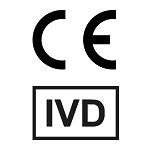 AC-0050A
0,1ml