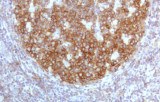 Anti-HGAL CE/IVD for IHC - Hematopathology
Human Germinal center-Associated Lymphoma (HGAL) protein, also known as Germinal Center-associated Lymphoma Protein or GCET, is expressed specifically in the cytoplasm of germinal center B-cells. As HGAL is absent in mantle and marginal zone B-cells, and in the interfollicular and paracortical regions of normal tonsils and lymph nodes, this protein is an optimal prognostic marker for B cell lymphomas derived from germinal centers, as well as follicular lymphoma. HGAL expression is also indicative of a subset of Hodgkin's lymphoma of germinal center derivation and improved survival, and predicts the outcome in patients with diffuse large B-cell lymphoma.
HGAL staining is also present in 100% of Burkitt lymphomas, 97.6% of follicular lymphomas, 87.5% of mediastinal large B-cell lymphomas and 68% of DLBCLs. HGAL was demonstrated to be more frequently positive in follicular lymphomas, superior to Bcl-6 and CD10 staining. Through gene expression profiling, DLBCL are classified further into two additional subgroups: GC B-cell like and activate B-cell like DLBCL that cannot be reliably distinguished by morphology.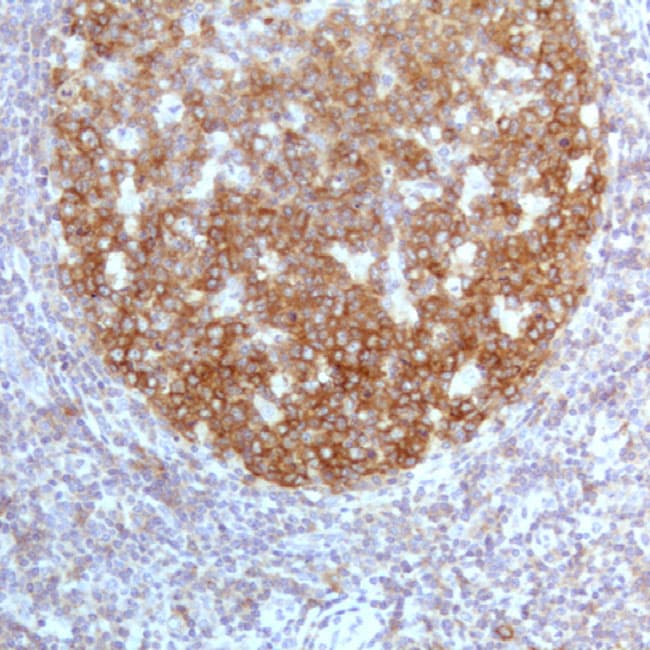 Katalog-Nummer
Beschreibung
Cond.
H. T. Preis