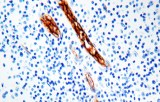 Anti-Factor VIII CE/IVD for IHC - Hematopathology
Factor VIII participates in the intrinsic pathway of blood coagulation. Factor VIII is a cofactor for factor IXa which, in the presence of Ca+2 and phospholipids, converts factor X to the activated form Xa. Factor VIII gene produces two alternatively spliced transcripts. Transcript variant 1 encodes a large glycoprotein, isoform a, which circulates in plasma and associates with von Willebrand factor in a noncovalent complex. This protein undergoes multiple cleavage events. Transcript variant 2 encodes a putative small protein, isoform b, which consists primarily of the phospholipid binding domain of factor VIIIc. This binding domain is essential for coagulant activity. Defects in this gene results in hemophilia A, a common recessive X-linked coagulation disorder.
Factor VIII (FVIII) is a blood-clotting protein that is mutated in hemophiliac patients. Anti-Factor VIII stains endothelial and neoplastic blood cells, and may determine the endothelial characteristics of some lesions of disputed histogenesis. Since not all endothelial cells express FVIII, not all endothelial tumors stain with anti-factor VIII antibody.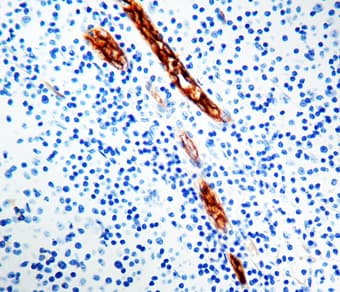 Tonsil section

Katalog-Nummer
Beschreibung
Cond.
H. T. Preis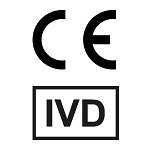 A00059-0025
25ml