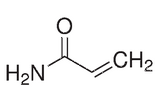 Acrylamide for protein electrophoresis
Protein gel electrophoresis can be done
on agarose gel or
acrylamide gel, this type of electrophoresis is also called PAGE.
The acrylamide gel is a cross-linked gel made by mixing acrylamide, which polymerises under the action of TEMED, and ammonium persulphate, which gives
a more or less dense mesh network depending on the proportions of acrylamide and bis-acrylamide used
, so the gel obtained behaves like a
molecular sieve
. The percentage of acrylamide can be the same throughout the gel or it is also possible to make a gel with a gradient (gradual percentage along the length of the gel). Loose mesh gels with large pore sizes (4-8% acrylamide) allow high molecular weight proteins to migrate more easily, whereas tight mesh gels with small pore sizes (12-20% acrylamide) limit their migration. Gradient gels therefore provide good separation resolution for both small and large proteins.
Ergebnis Ihrer Suche : 417 Produkt(e) gefunden
Grenzen Sie Ihre Suche ein :