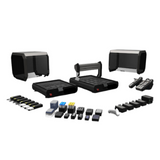 Empowering Scientific Advancements with Compact Robotic Platforms
Neobiotech introduces NEO, a range of compact robotic platforms designed to rapidly automate a wide range of biology protocols, with a particular focus on molecular biology. Designed to be robust and reliable, the NEO range is ideally suited to tasks such as PCR/qPCR plate preparation, nucleic acid purification, DNA and RNA library preparation, capture steps for NGS protocols, and various other liquid handling protocols. With NEO, you can streamline your workflow, save valuable time and ensure consistent, accurate results.
These turnkey solutions are available in 3 editions.