TAE Buffer 10X, Ready Pack
Cat# 10530011-3
Size : 10PK(s)
Contact local distributor :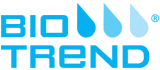 Phone : +1 850 650 7790
Description
Product Description
TAE (Tris-Acetate-EDTA) buffer quick-mix pack prepares 1 L of 10X concentration. This solution has a pH level between 8.2 � 8.4 and is stored at room temperature.
TAE is used for electrophoresis of nucleic acids in agarose and polyacrylamide gels. It can be used for both genomic and large supercoiled DNA, and can also be used as both a running buffer and a gel preparation buffer. It is recommended for resolution of RNA and DNA fragments larger than 1500 bp, for genomic DNA and for large supercoiled DNA. TAE buffer has a relatively low buffering capacity and therefore replacement of the buffer during prolonged electrophoresis is recommended.
�
Properties