Tau & Beta Amyloid Peptides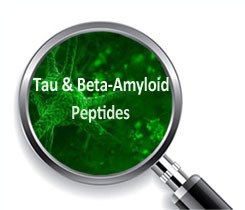 In Alzheimer's disease (AD), the major pathological hallmarks are β-sheet aggregates of β-amyloid peptides in senile plaques and hyperphosphorylated tau protein in neurofibrillary tangles (NFT).
Beta Amyloid Peptides
Beta-Amyloid (Aß) peptides assemble into long, insoluble ordered fibers and are deposited extracellularly in tissue amyloidosis. These peptides are generated as cleavage products 39 to 43 amino acids in length from the membrane protein, Amyloid Precursor Protein (APP) by two proteases, ß-secretase and γ-secretase. Aßs are amphiphilic peptides with a hydrophilic N-terminal domain (residues 1 to 28) and a hydrophobic C-terminal (residues 29 to 40), the latter corresponding to a part of the transmembrane domain of APP.

Tau Peptides&Tau Proteins
TAU proteins belong to the microtubule-associated protein (MAP) family and are involved in the pathogenesis of Alzheimer's disease. In the human brain, there are six TAU isoforms ranging from 352 to 441 amino acids in length. These isoforms vary at the carboxyl terminal according to the presence of either three repeat (3R) or four repeat (R4) domains, in addition to the presence or absence of one or two insert domains at the amino-terminus.
Tau Peptide (45 - 73) (Exon 2/Insert 1 domain)
ESPLQTPTEDGSEEPGSETSDAKSTPTAE
1 mg
Tau Peptide (244 - 274) (Repeat 1 domain)
Ac-QTAPVPMPDLKNVKSKIGSTENLKHQPGGGK
1 mg

Tau Peptide (275 - 305) (Repeat 2 domain)
VQIINKKLDLSNVQSKCGSKDNIKHVPGGGS
1 mg
Recombinant Human Tau (Tau - 441) Protein

50 ug
100 ug
Recombinant Human Tau (Tau - 441) Protein, GST tagged
50 ug
100 ug