74th Mosbacher Kolloquium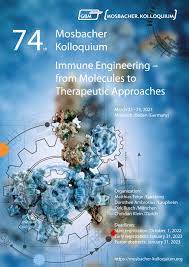 23-25 March 2023-Mosbach-Germany
Conference aims :
The scientific theme of the 74th meeting is "Immune Engineering – from Molecules to Therapeutic Approaches".
Harnessing the power of our immune system is currently emerging as the most promising avenue for previously uncurable diseases. Antibodies remain the mainstay of immune therapy and still hold major opportunities for the future. Engineering immune cell communication by tailor-made cytokines or directly editing the cells of our immune system as living drugs are exciting current developments in the field.
The Mosbacher Kolloquium in 2023 will bring together academic and industrial leaders in these fields. This will allow to obtain an overview over the state-of-the-art but also chart future developments in basic science and clinical translation.
The conference will include 3 sessions :
Session 1 : Next generation antibody-based immunotherapies (Novel concepts: The scientific basis.
Session 2 : Engineering cytokines and their receptors
Session 3 : Cell and virus-based therapeutical developments (Experiences and recent developments with CAR-T cells in the clinic
And much more...
We will be present at this event with our stand. Come and visit us to discuss your research, see our product line and understand how the technologies we offer can help you.