5th Brainstorming Research Assembly for Young Neuroscientists (BraYn)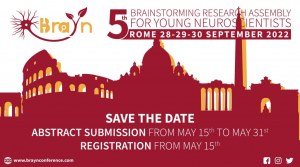 28-29-30 September- 2022, Rome
5th Brainstorming Research Assembly for Young Neuroscientists (BraYn) association is an initiative specifically intended for young researchers, working in the field of Neuroscience.
Every day, young Neuroscientists face the difficulties of carrying out their research at several levels.
Objective:
The goal of BraYn association is to support the reaserch of young neuroscientists at different levels, to help young neuroscientis in their fund raising activity and to organize a scientific conference attracting different researchers across Europe, especially Italy, where young researchers can share their knowledge, skills and ideas to establish new collaborations among different research groups.
The fifth Brainstorming Research Assembly for Young Neuroscientists (BraYn) took place in Rome from 28-30 September 2022. The conference aims to bring together early-career neuroscientists for the purposes of networking, sharing expertise and promoting collaborations. This year, the organisers received one of our Sustainable Conferencing Grants to help fund access to hybrid conferencing software and various other sustainability touches.

The conference programme was also made available as a digital document, thus reducing paper consumption.