21. Bamberger Morphologietage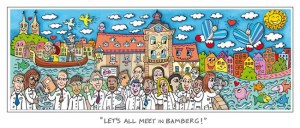 25 - 27 January 2019 - Bamberg
The 21st Morphology Days will be held in Bamberg from 25 to 27 January 2019.
Uropathology, tumors of the head and neck and, of course, molecular pathology are the main themes of this next congress. On these subjects you will find a wide range of lectures, workshops, courses, seminars and interdisciplinary courses.
New for the 2019 edition
After the traditional lectures, you will find elective courses on topics related to neuropathology and a course on thyroid pathology. The obvious goal is to show you very quickly the possible solutions to the biggest challenges of daily diagnosis. For laboratories, the growing demand for molecular and pathological investigations is a major challenge. That's why we offer a course on creating a NGSLabor under the motto "From MTLA to MTLA" and begin the four-part series "Mol-Path for Beginners" for MTLA, Biologists and Physicians.
As usual, the congress will be accompanied by an industrial exhibition presenting the latest and most up-to-date equipment and techniques.
With all the rapid progress of medicine, we do not want to forget the pathology of developing countries and emerging countries and we therefore present to you the German-speaking working group "iPath" with conferences and a meeting of the working group so that you can decide for yourself if and how you want to get involved in this important subject.