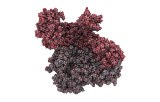 Reverse transcriptase
Reverse transcriptases (also known as retrotranscriptases) are DNA polymerases that can synthesize a complementary DNA strand (cDNA or cDNA) by taking RNA as a template. It thus form a hybrid composed of an RNA strand and a cDNA strand. These enzymes therefore catalyze the inverse reaction of transcription which consists of synthesizing RNA from DNA, hence the name of reverse transcriptases.
Reverse transcriptases are produced by cells infected with retroviruses. Retroviruses are RNA viruses that synthesize a cDNA by the host cell to allow for replication.
Reverse transcriptase is used for the study of RNA. After the synthesis of the complementary DNA strand, the template RNA strand is destroyed, and then the cDNA is amplified by PCR, which provides a large amount of cDNA hybridized with a DNA copy of the Sequence of the starting RNA: this is called the reverse transcriptase PCR or RT-PCR.