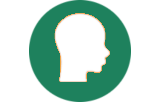 Primary antibodies for immunohistochemistry CE/IVD - Head and neck pathology
Head and neck cancer is a group of cancers that starts in the squamous cells that line the moist, mucosal surfaces inside the head and neck (for example, inside the mouth, the nose, and the throat). These squamous cell cancers are often referred to as squamous cell carcinomas of the head and neck. Head and neck cancers can also begin in the salivary glands, but salivary gland cancers are relatively uncommon.
Cancers of the head and neck are further categorized by the area of the head or neck in which they begin. These areas are described below and labeled in the image of head and neck cancer regions.
Symptoms for head and neck cancer may include a lump or sore that does not heal, a sore throat that does not go away, trouble swallowing, or a change in the voice. There may also be unusual bleeding, facial swelling, or trouble breathing.
Alcohol and tobacco use (including smokeless tobacco, sometimes called "chewing tobacco" or "snuff") are the two most important risk factors for head and neck cancers, especially cancers of the oral cavity, oropharynx, hypopharynx, and larynx.