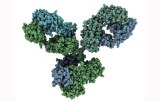 Primary antibodies for immunohistochemistry CE/IVD
Immunohistochemistry (IHC) is an important method for pathologists because it specifically visualizes the distribution and amount of a certain molecule in the tissue using a specific antigen-antibody reaction. The applications of IHC are increasing as more and more molecules involved in the pathogenesis, diagnosis and treatment of diseases and cencer are discovered. The unique feature that distinguishes IHC from many other laboratory tests is that it is performed without destroying the histological architecture, so that the evaluation of the expression pattern of the molecule is possible in the context of the microenvironment.
We offer a wide range of primary antibodies validated for diagnosis using the IHC method. All these products bear the CE / IVD mark.
Primary antibodies are available in different formats: concentrated or pre-diluted (ready-to-use) and the range includes both monoclonal and polyclonal antibodies.
Our catalog includes rabbit monoclonal antibodies that have many advantages over mouse polyclonal and monoclonal antibodies.