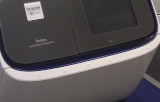 Preparation of DNA libraries for Ion Torrent NGS
Next Generation Sequencing (NGS) is a powerful tool for large scale, high definition sequencing. There are different types of sequencing. The most widely used technology at present is the synthetic sequencing technology (or Illumina sequencing). But there are also other technologies such as Ion Torrent technology.
Ion Torrent sequencing is a sequencing method based on the detection of hydrogen ions released during DNA polymerisation. It is a synthetic sequencing method in which a complementary strand is created from a template. Ion Torrent sequencing consists of 4 main steps: building the bank, amplification, sequencing and analysis. Unlike Illumina sequencing, Ion Torrent or Ion Proton sequencing does not use optical signals. Rather, it exploits the fact that the addition of a dNTP to a DNA polymer releases an H+ ion. As in other types of NGS technologies, the input DNA or RNA is fragmented into fragments of about 200bp. Adapters are added and a molecule is placed on a bead. The molecules are amplified on the bead by emulsion PCR. Each bead is then placed in a single well of a slide.