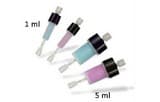 Pre-packed FPLC columns
Biotrend HiFliQ columns pre-packed and ready to use with pre-charged with different resins for purification of proteins and antibodies.
HiFliQ columns are aivalable in 2 sizes (1 ml and 5 ml) and in 2 packages (1 column and 5 columns).
HiFliQ columns have high binding capacity and minimal ion leakage and are compatible with all common chromatography HPLC and FPLC instruments (including ÄKTA FPLC's), and low pressure pumps and syringes using an appropriate adaptor.
Available resins :
Nickel-NTA : for purification of poly-histidine tagged proteins

Cobalt-NTA : for purification of poly-histidine tagged proteins

GST : for purification of GST tagged proteins
Protéine A : for purification of antibodies
Protéine G : for purification of antibodies
Search result : 0 product found