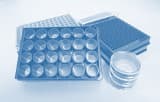 Nanometric plastic film for 3D culture - Low binding (cancer cells)
The NanoCulture system uses a unique patented material for 3D cell culture without using a gel matrix or covering the culture plates. This system is simple and easy to use as conventional cultivation techniques.

There are
2 types of NanoCulture films
:
Low binding (L) and High binding (H)
. L type carriers are recommended for
cancer cells
. While type H supports will be more suitable for
adipocytes, hepatocytes and stem cells
that are more easily detached from the culture surface and condense in the center of the well.
The NanoCulture range includes dishes (35 mm in diameter) and plates (3 different sizes: 24, 96 and 384 wells). Here are the characteristics of the different formats:
35 mm
24-well
96-well
384-well
Medium volume*
3 ml
1.5 ml
100 µl
50 µl
Cell seeding (cells per dish / well)*
200,000
60,000
10,000
3,000
* Medium volume and cell seeding number can be modified / optimized depending on your experiment.
Search result : 15 product found
Refine your search :
kit

11

cell culture products

4