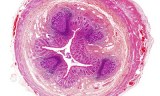 Mounting media
For microscopic analysis, stained tissue sections, cytology gynecology preparations, bacteriological specimens or hematological blood smears are usually mounted with aqueous or non-aqueous mounting media and covered with a coverslip. they need to be stored for a long time.
Mounting media allow you to:
Help keep a sample in place during imaging
Prevent the sample from drying out
Match the refractive index more closely for the lens used
Prevent photobleaching
Preserve sample over time for long-term storage
The choice of mounting medium depends on the type of sample, the type of microscopy used for the observation, and the technique used (use of the fluorescent marking for example). There is a wide variety of mounting media, they can be composed of organic solvents such as toluene and xylene or water-based, these media are called aqueous mounting media.
We offer a wide range of aqueous and anhydrous mounting media for optical microscopy and fluorescence microscopy.