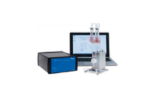 Microscopy Instruments and Accessories for live cell imaging
Live cell imaging is the real-time microscopy of dynamic processes in living cells. It allows the observation of interactions between cells, the behaviour of individual cells, and the dynamics of cell organelles or cell molecules. Several imaging techniques can be applied, such as phase contrast microscopy, fluorescence and confocal microscopy, multiphoton microscopy, TIRF microscopy and super-resolution microscopy.
Throughout the live cell imaging experiment, the cells must be kept alive and healthy. Therefore, physiological conditions must be established and maintained on the microscope. This presents several challenges and requires precise experimental planning. However, live cell microscopy offers many novel opportunities to better understand the mechanisms of human life and the biological dynamics within the cell.
Cells respond sensitively to changes in their environment. Factors such as temperature, humidity and CO2/O2 levels significantly influence the outcome of cell culture tests. In order to obtain biologically relevant and reproducible results, it is essential to maintain optimal conditions on the microscope stage during live cell imaging experiments.