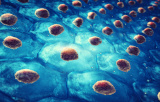 Kits for the preparation of Illumina libraries - Single cell sequencing
Single-cell sequencing is one of the Next Generation Sequencing (NGS) techniques. Single-cell seq allows the analysis of genetic information (DNA, RNA) on the scale of a single cell thanks to the optimisation of next-generation sequencing technologies. This technology allows the study of cellular differences with optimal resolution and the understanding of the particularity of a cell within its microenvironment.
The main challenge for this type of sequencing is the preparation of a library from a very small amount of nucleic acid. For this purpose, the library preparation kits for single cell sequencing use an amplification technique called MDA for Multiple Displacement Amplification. This technique allows femtograms of nucleic acid to be amplified to obtain micrograms of material suitable for sequencing. With these library preparation kits, it is possible to study WGA (whole genome amplification) and WTA (whole transcriptome amplification) sequencing.
Search result : 0 product found