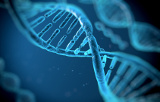 Kits for the preparation of Illumina libraries - Cell free DNA (cfDNA)
Cell free circulating DNA (cfDNA) is made up of DNA fragments circulating in blood plasma. Circulating free DNA is a double-stranded extracellular DNA molecule composed of small fragments (70 to 200 bp) and larger fragments (21 kb). Circulating free DNA can be used to describe various forms of DNA circulating freely in the blood, the best known of which are Circulating tumor DNA (ctDNA) and cell-free fetal DNA (cffDNA).
Circulating free DNA is a useful biomarker for a multitude of conditions other than cancer. These include, but are not limited to, trauma, sepsis, aseptic inflammation, myocardial infarction, stroke, transplants, diabetes and sickle cell disease.
Free circulating DNA is one of the difficult samples because it is difficult to purify and the DNA of interest may be present in small amounts in plasma samples. This is because plasma contains a variety of circulating DNA from cell debris.
Search result : 13 product found