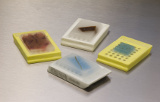 Kits for the preparation of Illumina libraries - FFPE samples
Next Generation Sequencing (NGS) is usually done using "fresh" DNA samples from blood, cells or other samples. However, some studies require FFPE samples, i.e. tissue obtained from biopsies, fixed and embedded in paraffin. The formalin-fixing method allows the sample to be stored at room temperature for many years by cross-linking the cell contents of nucleic acids and proteins and encapsulating the sample in paraffin.
These samples are quite delicate to use as they contain degraded and/or limited genomic material. Multiple factors lead to variability in the quality of DNA isolated from FFPE samples, including chemical alterations that occur on the nucleic acids during the preservation process, lack of standardisation of the preservation process and the age of the stored samples. The quality of the DNA used as a template for building the NSW libraries is an important factor in obtaining reliable results, so it is important to treat FFPE samples with specific reagents to obtain the highest quality DNA template possible. With these reagents, it is now possible to analyse previously inaccessible samples to derive high quality genomic data and information.
Search result : 6 product found