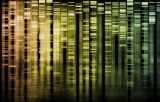 Kits for the preparation of Illumina libraries - Genome sequencing
Genome sequencing, also known as Whole genome sequencing (WGS), is the process of sequencing the entire DNA sequence of an organism at once. Genome sequencing is a research tool that is increasingly used for diagnosis.
The use of genome sequencing has made it possible to identify hereditary diseases, to characterize mutations that lead to the formation and progression of certain cancers and to monitor epidemics.
The advantages of whole genome sequencing are the high resolution of reading the genome base by base and the capture of variants that might be missed with other methods. Whole genome sequencing allows the detection of single nucleotide variants, insertions/deletions, copy number changes and large structural variants.
Whole genome sequencing is associated with different types of sequencing such as de Novo sequencing or re-sequencing.