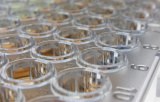 Enzyme Immunoassays (EIA)
Enzyme immunoassays (also called EIA) use antibodies to detect the presence of antigen or the reverse depending on the test performed.
There are several types of EIA methods, but all use an enzyme-conjugated antibody and the addition of a substrate of this enzyme to visualize and quantify. This substrate is a chromogen, a colorless molecule that forms a colored product in the presence of the enzyme. The most used enzymes in EIA are alkaline phosphatase and horseradish peroxidase or HRP. In some EIA methods, the substrate is a fluorogen, a non-fluorescent molecule that the enzyme transforms into a fluorescent product. ELISA (Enzyme-linked Immunosorbent Assay) is the most widely used EIA method.
We propose qualitative or semi-quantitative test systems (titration) for the detection of antigens from different organisms or antibodies against microorganisms in patient samples.