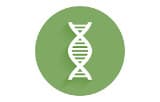 DNA library preparation kits for Illumina® - Enzymatic fragmentation
The preparation of DNA libraries involves the fragmentation of DNA. This fragmentation can be done in different ways. There are 3 different approaches to DNA fragmentation: physical (such as sonication), enzymatic or chemical.
Enzymatic fragmentation, as the name suggests, uses a restriction enzyme to cut the DNA. Enzyme fragmentation produces fragments by simultaneously digesting both DNA strands or by generating notches on each DNA strand to produce breaks. Enzymes that cut both DNA strands simultaneously (e.g. restriction endonucleases) often have a sequence preference, which introduces a bias. Therefore, a combination of non-specific nuclease and endonuclease is often used to produce fragments in an unbiased manner. The nuclease cuts into the DNA and the endonuclease cuts into the notched DNA.
An important disadvantage of enzymatic shearing is the potential risk of bias. For this reason, physical fragmentation by sonication is more often used.