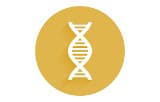 DNA library preparation kits for Illumina® - Physical shearing
The preparation of DNA libraries involves the fragmentation of DNA. This fragmentation can be done in different ways. There are 3 different approaches to DNA fragmentation: physical (such as sonication), enzymatic or chemical. Sonication is the most commonly used method for DNA fragmentation in preparation of a library for Next Generation Sequencing (NGS).
Sonication is considered "cleaner" than the other 2 approaches because it does not use any enzyme or chemical that could interfere with the further preparation protocol but also negatively impact the reading. In addition, sonication allows to generate more uniform fragment sizes than fragmentation with restriction enzymes that target specific sequences without taking into account the size of the sequence between 2 cut-off points. Sonication uses ultrasound to cleave the hydrogen bonds inside the DNA and thus create the break of the double or single-stranded helix.